Why bluwinx?
If you have trouble getting a good night's sleep, suffer from headaches, eye fatigue or eye strain, you need to get yourself a pair of bluwinx blue light glasses. bluwinx blue light glasses have been specially designed for those who spend long hours in front of their computer or looking into digital screens. bluwinx eyeglasses have been clinically proven to relieve headaches, eye fatigue, eye strain, and even improve the quality of sleep.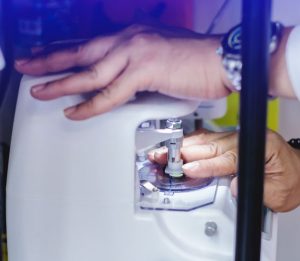 How Your bluwinx Glasses Are Made
At bluwinx, we custom-make each pair of glasses. Once you complete your purchase, we send your frames to our ophthalmic lab in Youngstown, Ohio. There, our technicians begin personalizing your lenses. Whether you ordered prescription or non-prescription glasses, our team of experts cut, edge and finish each lens according to your specifications. With meticulous precision, they insert your hand-crafted lenses into your chosen frame. After one final inspection, our team carefully packages your new bluwinx blue light glasses and sends them your way! (Did we mention you get free shipping?)
All bluwinx Lenses:
Filter up to 80% of high energy visible blue light
Include 100% UV protection
Include scratch-resistant lenses
Include anti-reflective coating on the front and back of our lenses
No color distortion
No amber-tinted lenses
What's Included with Your bluwinx Glasses
In addition to a hard case and cleaning cloth, each pair of bluwinx glasses comes with the promise of a good night's sleep. We proudly stand behind our product, which is why we offer a 100% satisfaction guarantee. If after 30 days you are not completely happy with your purchase, please contact us and we'll make it right. Our team at bluwinx believes that everyone has the right to a good night's sleep. Order now!