Our Carey frame offers a bold and expressive style. Dark, earthy tones combined with a pop of color make these glasses ideal for expressing your unique style.
Blue light filtering
up to 80%
Scratch-resistant
quality lenses
Anti-reflective coating on front and back
Why bluwinx
Spending long hours in front of your computer?
If you have trouble getting a good night's sleep, suffer from headaches, eye fatigue or eye strain, you need to get yourself a pair of bluwinx blue light glasses.
People who spend more than 6 hours a day in front of a digital device
Adults who report symptoms of digital eyestrain
Percentage of teens that access the internet on cell phones or tablets.
Improve the quality of sleep
bluwinx blue light glasses have been specially designed for those who spend long hours in front of their computer or looking into digital screens.
bluwinx eyeglasses have been clinically proven to relieve headaches, eye fatigue, eye strain, and even improve the quality of sleep.
Improve the quality of sleep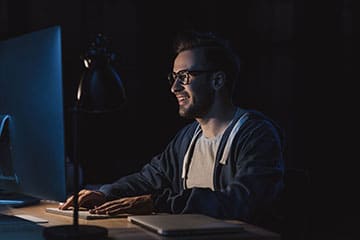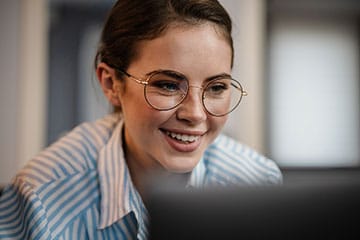 KODAK Total Blue® lenses filter
Advanced Blue Light
Protection Technology

At bluwinx, we pride ourselves in using only the finest materials to make your glasses. Our premium acetate and metal frames have been specially chosen based on their comfort, quality and originality of design. We fit every frame with KODAK Total Blue® lenses, the most advanced blue light blocking technology on the market.
KODAK Total Blue® lenses filter up to 80% of HEV blue light, while allowing low energy blue light to pass through. Low energy blue light is essential for true color perception and maintaining a healthy circadian rhythm (the cycle that tells your body when to sleep and wake up). KODAK Total Blue® is revolutionizing the computer glasses scene by providing exceptional color vision. This means that all of our glasses come with no amber tint, allowing you to continue viewing the world in full color.
In addition to filtering out harmful blue light, KODAK Total Blue® lenses have been designed to wear during the daytime and nighttime, thus eliminating the need for multiple pairs of glasses. Each pair of bluwinx glasses offer 100% UV protection and come with an anti-reflective coating that prevents glare. All bluwinx glasses can be fit with your prescription.
WHAT OUR CUSTOMERS SAY
I wanted to send you this email to let you know that I reached out to bluwinx after your video. My son, who suffers from double vision problems, gets tired eye very easily, and so I thought a better grade of blue light lens might be helpful to him. I received a call from Joe himself, and he was so kind to truly go deep into conversation about my son and his needs. He even sent me smaller frame options that weren't on the website. (My son is 12). He is working with me to get my son some new blue lights that we look forward to him wearing. Thank you guys for introducing my family to such a nice company. I appreciate all you do.
Stephanie H.
Pleasantly surprised by the delivery and quality of the product. I am a contact wearer and noticed my contacts not drying out, particularly at night, and my eyes are not as tired watching tv or working on a laptop.
Jamie D.
Between work, reading, writing, social media, news, and streaming services I get A LOT of screen time. I also suffer from terrible migraines— and while it's not the only trigger, screen time certainly doesn't help. I noticed a difference with my Bluwinx glasses after the first day. My eyes (and head for that matter) felt more relaxed, less strained and less drained at the end of the day. They're the first thing I reach for now before getting in front of any screen. 10/10 recommend.
Margaret Henney
100% customer satisfaction
What's Included with
Your bluwinx Glasses
In addition to a hard case and cleaning cloth, each pair of bluwinx glasses comes with the promise of a good night's sleep.
We proudly stand behind our product, which is why we offer a 100% satisfaction guarantee. If after 30 days you are not completely happy with your purchase, please contact us and we'll make it right.
Our team at bluwinx believes that everyone has the right to a good night's sleep. Order now!